A fire at an apartment building is dangerous because it can cause devastating damage and very quickly spread through the entire building. Apartment fires also put a lot of lives at risk because of how easily they can spread between apartments.
The U.S. Fire Administration states that there are over 105,000 residential fires in multi-unit properties every year. It is important to understand why these fires happen, how to protect yourself and ensure your safety, and what you can do as a resident to prevent fires in your apartment building.
Apartment fire
How do apartment fires happen?
Most of the time apartment fires happen due to human error. Generally, these fires can be easily avoided. Here are a few potential causes to be aware of:
1. Kitchen fires
Splattered grease is a major cause of kitchen fires. Fires can also start due to leaving your oven, stove, or a cooktop appliance unattended.
2. Portable heaters
Heaters usually set on fire because of faulty or fried power cords or components that are old and worn. These appliances can start an intense fire and ignite flammable materials.
3. Electrical systems
It is important to maintain electrical systems in apartment buildings so that dangerous issues can be avoided. At times if they are badly wired, the circuit box or a wall outlet that is faulty can start an electrical fire.
4. Large appliances
Some large appliances such as dryers, washing machines, and even dishwashers can start an apartment fire. Also, power cords for heating elements and even motors in old appliances can start a fire.
5. Candles
Although candles can be wonderful to create ambience and a pleasing smell, they also cause 7,000 residential fires each year. Other causes of fires can be expected from fireplaces, patio fire pits, lighters, and matches.
6. Smoking cigarettes
Many residential buildings now prohibit smoking in their units. However, cigarettes are still a common cause of fires in buildings. If not disposed of properly, cigarettes can cause fires outside as well.
Burning candles and fireplace
Fire Safety Tips for Apartment Residents
As an apartment resident, you should be aware of these two important lifesaving tips:
How to keep safe in case of a fire
How to implement fire safety tips at your apartment building
Tips on Keeping Yourself Safe
You should always have an evacuation plan in case of a fire. You should know the shortest way to get to the nearest fire exit. You should also have a backup plan, or a second way out of the building in case the primary route becomes blocked. To remember your evacuation plan, you should sketch it out so that you can reference it when you need it.
Your fire detectors should be checked regularly:
In your apartment, you should have a smoke alarm in each hallway and bedroom. They should be checked once a month simply by pushing the test button. If it does not work like it should, it should be replaced immediately. Batteries in these devices should be changed once a year. You should also pay attention to the expiration date on the back of the unit. Most units will not function properly after 10 years and should be replaced.
Know how your fire extinguisher works:
Your kitchen fire extinguisher should be in an easy spot so you can reach it in case of a fire. If you are unsure how your specific fire extinguisher works, do a search online to find an instructional video.
Always cook with safety in mind:
One third of home fires occur in the kitchen.
When you are cooking, you should not leave the kitchen. If you do have to leave the kitchen, you should have a timer with you and it should not be for more than 5 minutes. This should be a rule for all residents of the apartment. To keep your kitchen safe, you should also never leave kitchen towels and oven mitts near the stovetop burners as they can be a fire hazard.
Space heaters should be used safely:
You should always check the space heater you will be using for any fried cords or faulty connections. Also, all space heaters should be kept away from walking areas and they should be placed at least 3 feet from flammable materials to prevent fires.
Any power cords that are plugged in at your home, including cords for lamps, appliances, and even TVs, should be regularly checked as they may become fire hazards. Always check for cords that are worn or plug prongs that are damaged. All extension cords and power strips should be checked as well and should be used safely. Never run power cords under rugs or through doorways.
If a fire blocks your exit at the door, you may be able to use your window as an exit. Always check the windows in your apartment and make sure that they open and close easily. If you notice issues with your windows, make sure to contact your building management company.
Tips for Keeping Safe Your Apartment Building
All exits should be closed and clear:
Fire exits in your building should always be clear, they should never be used for storage by residents. This is also true for stairwells and stairways. This is helpful in case an evacuation is needed. The exit doors should never be locked but should always be closed. This helps reduce the likelihood that the fire will spread through the property.
Know where the pull stations are:
Even though in most buildings if there is a fire, the sprinkler systems and smoke detectors will go off, you still need to know where the pull stations for manual alarms are located. They are usually located in stairways, hallways etc.
If there is a fire safety issue in your building, speak up:
If you notice an issue in your building that may become a fire hazard, make sure to tell management about it. If the building management doesn't take care of it, make sure to keep following up until they do. It is important that they keep their fire equipment working for the safety of its residents.
Share fire safety strategies with other residents:
It is always best for all tenants to know the fire safety rules of the building and how to evacuate safely. You can always talk to your neighbors and even arrange a meeting with management to make sure everyone is aware of what to do in case of a fire at your apartment building.
Call the Professionals for Fire Damage Restoration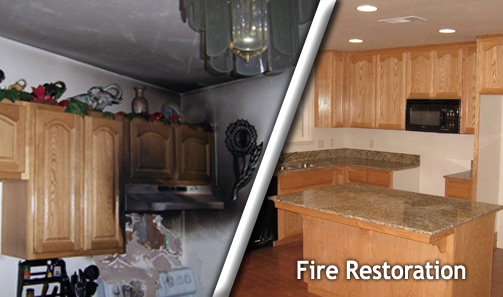 Fire damage restoration
Have you experienced a fire at your apartment building? It is important to call fire damage restoration experts right away. These professionals take fire safety very seriously and will help make sure you do not experience a fire again. Apartment fires can be devastating when it comes to damage and emotional stress. Professionals will work quickly and efficiently to restore your property back to its original state. They understand how important it is for apartment buildings to have property fire safety standards in place and their technicians will make sure your apartment has all of the fire safety features it needs to keep you and your family safe.
Expert in emergency fire and Hutto water restoration services, fire cleanup and Hutto water damage cleanup, mold removal, as well as carpet and upholstery cleaning services. Contributor to several restoration and cleaning blogs.